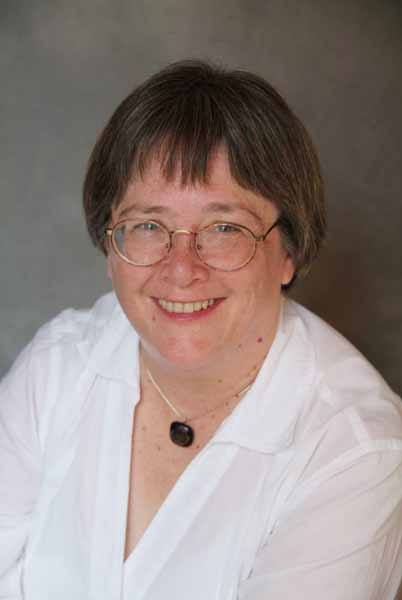 Lisa Tuttle
Books were important to me from as far back as I can remember. Both my parents loved to read and our house had lots of books in it. There's an early picture of me, aged no more than two, sitting on my parents' bed in a scatter of paperbacks and magazines, earnestly perusing an issue of The Magazine of Fantasy and Science Fiction - upside down. I didn't learn to read until I was past six, at school. My mother has told me that when she took me (aged four) in to be assessed for kindergarten, she was sternly warned against trying to teach me to read or write at home, so she didn't, but it must have been a constant struggle against my finger-stabbing demands to know what that word said and that one, every time she read me a story, and I think it may explain why the printed word held such a powerful, magical aura in my psyche.
Almost as soon as I learned to read to myself, I was writing my own stories. By the time I was nine, my father had given me his old typewriter, on which I produced a family newspaper (The Turtle News-Carrier) and many first chapters of never-to-be-completed novels, as well as short stories, poems, and letters-to-the-editor - some of which were published in The Houston Post. Later there were letters, articles and stories for other people's fanzines, for underground and "alternative" papers, for my high school newspaper, and then Mathom, the fanzine I edited and published for The Houston Science Fiction Society. I never lived anywhere but Houston before I left in 1970 to attend Syracuse University in upstate New York. That summer I attended the Clarion Science Fiction Writers Workshop at Tulane in New Orleans, and then again in Seattle in 1972. I was just shy of my nineteenth birthday when I sold my first short story.
After graduation, I returned to Texas and got a job on a daily newspaper, The Austin American-Statesman. I continued to write and sell short stories, and to struggle to write a novel while I worked. In 1980, in pursuit of a romantic dream, I became a full-time writer and moved to England. Apart from a short residence in the countryside, the next ten years were spent mostly in London, and entirely as a full-time writer, with bits of journalism, reviewing, editing and teaching helping me to eke out a living. I wrote novels, including Gabriel and Lost Futures, had two collections of short stories published (A Spaceship Built of Stone and A Nest of Nightmares), and took my first big plunge into research and non-fiction with An Encyclopedia of Feminism. That was first published in 1986, so of course it is a bit of an historical artefact now, but I am still proud of the work I did on it, and only wish it had been possible to keep a regularly revised and updated version of it in print. But time marches on. In 1990, Colin Murray and I moved away from London, got married and made our home in a remote and rural part of Scotland.
Eighteen years later, we're still here, with our daughter and a dog, in a little house (overflowing with books) in the Achaglagach Forest, on the shore of West Loch Tarbert, still writing.
There are some elements of my life and personality in My Death, but at least as much is purely fictional. Some elements of Helen Ralston's life were inspired by the relationship between Laura Riding and Robert Graves, along with the story of two Scottish artists, Eric Robertson and Cecile Walton, and biographies I've read of H.D. and other early twentieth-century writers and artists. But here's a little mystery: I read the first biography of Laura Riding, by Deborah Baker, when it came out in 1994, and can remember being struck by a description of Riding's first sight of the island of Majorca, which supposedly caused her to exclaim, "I have seen my death!" This impressed me so profoundly that when I finally wrote My Death, I wanted to use the quotation - either direct from Riding, or indirectly from her biographer - as an epigraph, and I searched the biography for it. I looked long and hard, but I could not find it - I could find nothing even remotely like what I remembered reading.
Did I make it up?
Lisa Tuttle
Torinturk, Scotland
31 March 2008