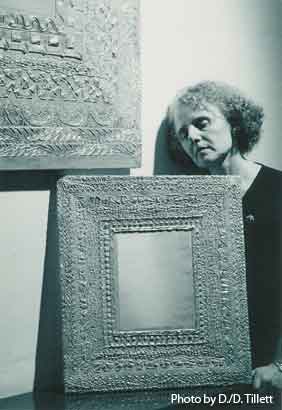 Wendy Walker
Wendy Walker was born in 1951 in New York City, where she still lives with her husband, writer Tom La Farge. She is the author of the underground classic of art history, espionage, and science fiction The Secret Service (1992), as well as two volumes of tales, The Sea-Rabbit, Or, The Artist Of Life (1988) and Stories Out Of Omarie (1995) (all from Sun and Moon Press). Her critical fictions have appeared in Conjunctions, 3rd Bed, Fantastic Metropolis, Parnassus and The Gertrude Stein Awards for Innovative American Poetry. She is co-translator with Rabia Zbakh of the Moroccan poet Abdelkrim Tabal. Her ideogrammatic history Blue Fire, about Constance Kent and "the great crime of 1860," was a finalist for the Fitzpatrick O'Dinn Award for the Best Book-Length Work of Constrained Literature in English, sponsored by Spineless Books. Her novel-in-progress, The City Under the Bed, deals with war, anamorphosis and photography.
Wendy has worked as a teacher of art, art history, and creative writing, at both secondary and university levels. She has also served as a visual arts consultant and advisor to arts organizations in New York, and was director of The Grady Alexis Gallery at El Taller Latino Americano, where she helped to found the Casa del Angel, the Angelo Romano Permanent Collection.
She maintains a website here.