The Merril Theory of Lit'ry Criticism
by Judith Merril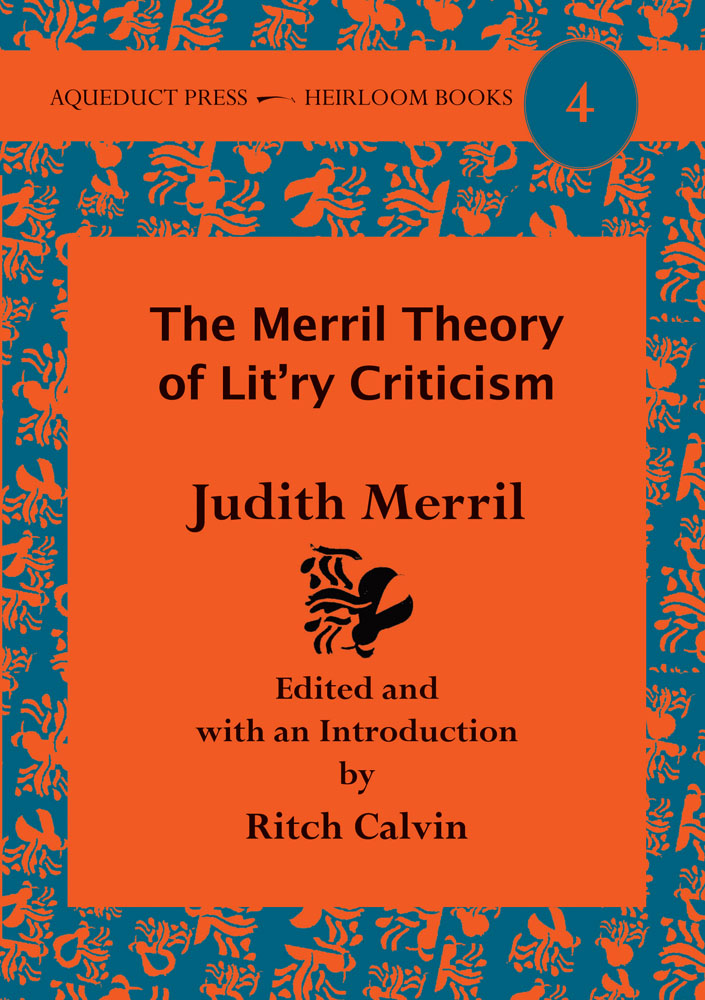 | | | |
| --- | --- | --- |
| $22 (paperback) | | |
| $8.95 (e-book) | EPUB | MOBI |
edited and with an Introduction by Ritch Calvin
Although Judith Merril is best known for her short fiction and her novels (in collaboration with C. M. Kornbluth), she wrote a great deal of nonfiction. She wrote about SF fandom. She wrote about space and space exploration. And she wrote about science fiction. This volume collects Merril's nonfiction from The Magazine of Fantasy and Science Fiction, Extrapolation, and her Year's Best anthologies. In these collected pieces, Merril works through and develops her definition of "S-F" and what makes S-F good. She chronicles changes within the genre, including the emergence of the New Wave. And she provides a history of the genre: its writers, its publishers, and its magazines.
Decades ago, Samuel R. Delany declared that "Merril…is perhaps the most important intra-genre critic the field has had and…the absence of any of her critical work in book form, in a field aspiring to take itself seriously, is preposterous.… [O]ne cannot know the history of science fiction from 1956 to 1969 if one has not read the brilliant commentary that runs through Merril's best-of-the-year anthologies for that period" —from Samuel R. Delany, Starboard Wine.
Now, in 2016, Aqueduct brings Judith Merril and her place in that history to today's readers.
Reviews
The Merril Theory of Lit'ry Criticism provides our first chance to see in one place Merril's columns for the magazine between 1965 and 1969, plus appreciations of Theodore Sturgeon and Fritz Leiber, introductions to her groundbreaking ''year's best'' anthologies of the '50s and '60s, and a more or less theoretical/historical piece from the academic journal Extrapolation. In an unusual strategy, Aqueduct has made available in the e-book full versions of some pieces that are only summarized in the print edition. ...Merril was ... a pioneer in assaulting literary moats and walls, as her anthologies insistently made clear, and it's fascinating to find someone articulating a half-century ago some approaches to fiction that are only now beginning to look like common sense. —Locus, Gary K. Wolfe, February 2016
So, an executive summary: The Merril Theory of Lit'ry Criticism reveals a sharp eye (for detail and nuance), a sharp mind (for analytical insights), and a sharp tongue (because Voice is crucial to these pieces). Her observations and evaluations stand up remarkably well five and six decades on, and the Theory that evolves and emerges across those years is at least as useful as any enshrined in a university-press volume. This book reminds me of what I still want to be when I grow up: Judith Merril. —Locus, Russell Letson, April 2016
ISBN: 978-1-61976-093-6 (13 digit)
Publication Date: Mar 2016
paperback 360 pages