Ring of Swords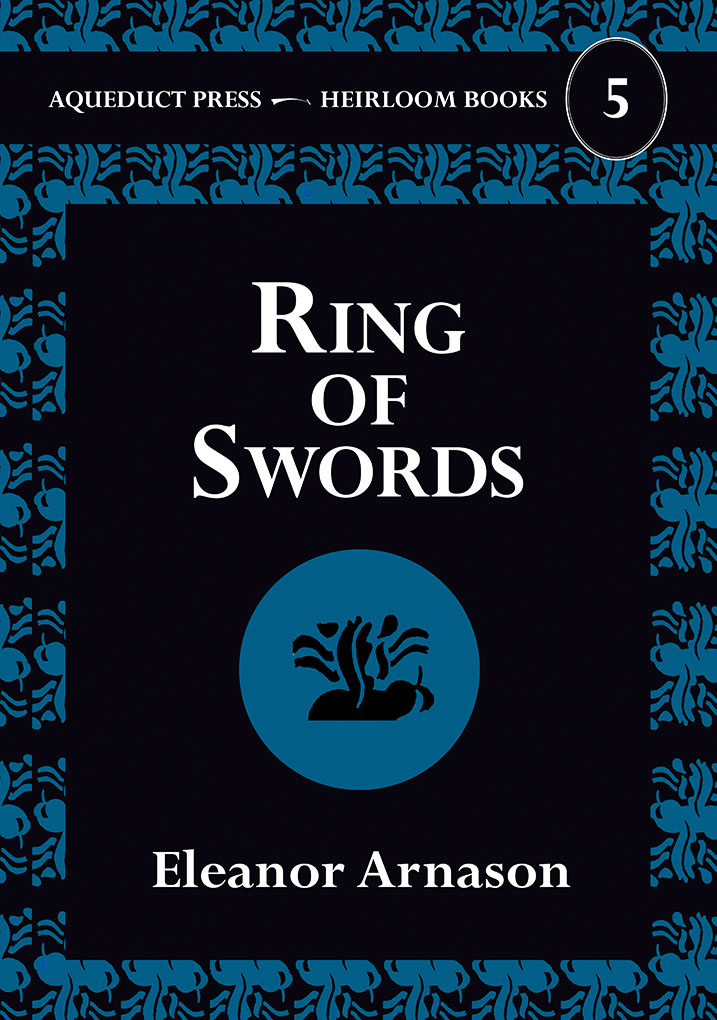 | | | |
| --- | --- | --- |
| $20 (paperback) | | |
| $7.95 (e-book) | EPUB | MOBI |
with and Introduction by Ursula K. Le Guin
In her introduction to this new edition of Eleanor Arnason's Ring of Swords, Ursula K. Le Guin writes, "Ring of Swords is an intellectually fascinating science-fiction story told in the novel tradition, peopled by ordinary people content with their ordinary life, appalled to find themselves swept up into a social crisis, forced into acts and choices of historical consequence. Its ancestry includes not only The War of the Worlds but also A Tale of Two Cities and War and Peace.
"Having recently brought their own competitive, feud-ridden society into a fragile balance of peace, the Hwarhath have been facing an unexpected problem: the lack of enemies. Given the apparently innate male propensity for finding pretexts to fight, and the fact that their men were all trained as warriors, the women running things at home make sure the men stay out in space protecting the home planet. The drawback is that there seems to be nobody to protect it from. So, when in the vastness of space they finally stumble into another intelligent species, they rejoice. Enemies! At last!"
"The usual assumption," Le Guin notes, "is that if you threaten a war early in a novel, you'd better hurry up and get the bombs bursting in air. And they usually do. Novels that portray war as totally destructive and futile still focus on it—war is what they're about, war is central to them, just as it was central to the old epics that glorified heroes and battles. But a war not fought? What kind of subject is that?" Le Guin asks. Her answer? "It's a beautiful subject for a novel, and Ring of Swords is a beautiful novel."
Reviews
Tiptree Award-winner Arnason (A Woman of the Iron People) skillfully blends anthropology and gender questions with intrigue and adventure in this provocative tale of alien contact, a long-out-of-print 1993 feminist science fiction classic that's still strong and relevant 25 years on. Exobiologist Anna Perez just wants to study her jellyfishlike creatures in peace, without the crowded distraction of a bunch of diplomats preparing for the first nonviolent meeting between humanity and the alien hwarhath. Then the hwarhath arrive with a human: Nicholas Sanders, a civilian captured 20 years ago, who's now a translator between the two races. A casual encounter with Nick puts Anna in the crosshairs of human military intelligence, who want Nick back. A failed kidnapping attempt ignites a tense showdown. To prevent a bloodbath, the hwarhath demand the human military turn over Nick—and Anna. With fascination overcoming trepidation, Anna agrees, setting off on the exploratory mission of a lifetime. The tense plot, alive with skillful worldbuilding and fascinating characters, is as entertaining as it is fascinating. An introduction by Ursula K. Le Guin reminds readers exactly why Arnason's novel remains important today. (Starred review) —Publishers Weekly, April 8, 2018
Eleanor Arnason's Ring of Swords is a novel full of insightful ideas about gender, encountering foreign cultures, love, and loyalty. These big ideas are anchored by a trio of fascinating characters. Ettin Gwarha is an influential military leader of the Hwarhath, the first starfaring race humanity has encountered. He seeks to negotiate a peace with humanity, a task both aided and complicated by his connection to his human lover Nicholas. Nicholas was a captive of the Hwarhath, who has sided with his captives and even fallen in love with one of them. And Anna, a scientist, is stuck in the middle when her quiet research post becomes the site of the peace negotiations between humans and Hwarhath, and she befriends Nicholas despite knowing his status as a traitor to his species....This book reminded me strongly of C.J. Cherryh's work--the same focus on character and societies and their interaction, the same habit of moving the plot forward via dialogue rather than through incident. It is an excellent example of anthropological SF, and the forward by Ursula K. LeGuin is fitting. To fans of LeGuin, Cherryh, or feminist SF more broadly I heartily recommend this novel. To those who haven't tried any of the above, this is an excellent place to start. (Read the whole review) —SF Revu, Benjamin Wald, April 2018
ISBN: 978-1-61976-140-7 (13 digit)
Publication Date: Jul 2018
paperback 350 pages