Trapped in the R.A.W.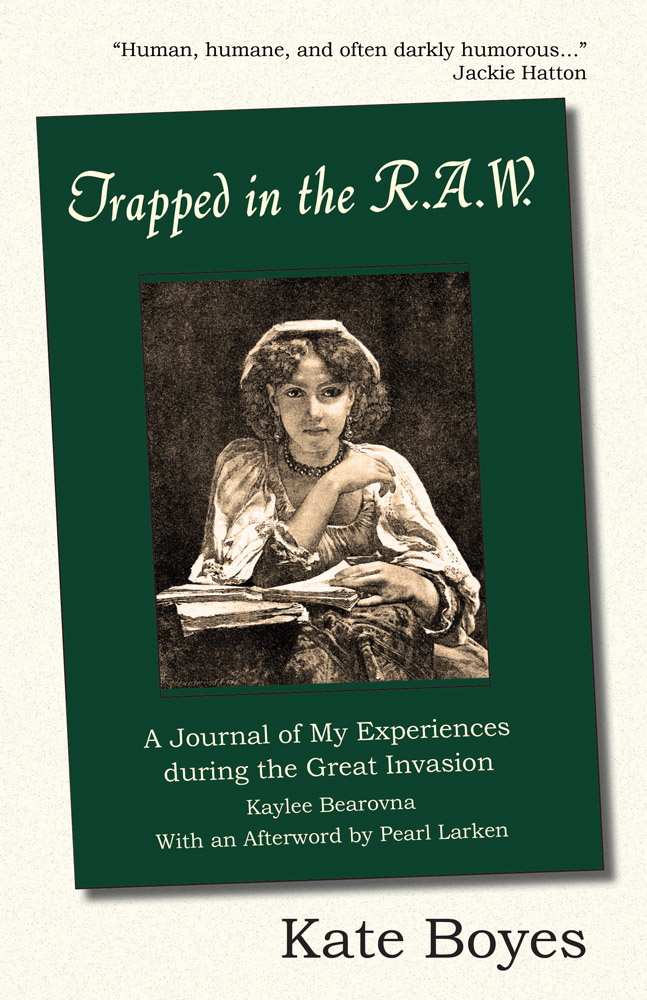 | | | |
| --- | --- | --- |
| $20 (paperback) | | |
| $7.95 (e-book) | EPUB | MOBI |
Click here for a short video description.

A young woman working alone in a small special collections library is trapped in the building when invaders overrun her town. She barricades the doors, peeks through a window, and watches in horror as people are murdered outside. The invaders wear uniforms that cover them completely, making it impossible for her to see their faces. However, she realizes at once that they do not intend to subjugate the population. They intend to annihilate it.

Trapped in the R.A.W. is a journal of the young woman's solitary struggle to protect the books while keeping herself fed, hydrated, warm, and sane.
Advance Praise
"Kate Boyes's Trapped in the R.A.W. is a very fresh take on the alien invasion theme. Tracing the story of a young archivist caught up in a terrifying and mysterious assault on her small town campus, the book is simultaneously a first-hand account of survival, a post-apocalyptic memoir, a narrative of first contact, and an ode to libraries. Human, humane, and often darkly humorous, this is one of the most charming dystopian novels I have read in a very long time.

"Trying to sit out an alien invasion in a library…for the discerning SF reader it just doesn't get better than that."
&nbspl&meagh;Jackie Hatton, author of Flesh & Wires
"Everything in this book is unexpected: the invasion, the invaders, and especially the hero, an ordinary young woman who deals with the unspeakable in simple ways that prove quite extraordinary. She is on her own and terrified, with no special powers or super technology, and yet she manages to reason and act. At a time when superhero exploits take up so much storytelling space, it is delightful to read a tale in which people take care of themselves."
—Nancy Jane Moore, author of The Weave
Reviews
Boyes's metafictional SF debut convincingly depicts the tenacity of the human spirit in the face of uncertainty. Kaylee is a special collections librarian who's trapped in the university's rare books library when aliens invade Earth. She records her thoughts on the pages of old library books, musing about the deteriorating state of the world while making a desperate bid for survival. Even though the invaders destroy her home and those she loves, Kaylee wishes to learn more about them, and forges a relationship with a male of the invading species while attempting to rationalize their destruction of humankind. With her new ally by her side, Kaylee plans her escape from the library, leaving her journal behind. Some 30 years after the invasion, the journal is picked up by a human expeditionary force, and the missing pieces of Kaylee's story begin to fall into place. Kaylee is undeniably charming; Boyes suffuses her diaries with both humor and weight. Boyes's attention to detail carries the tale forward, drawing the reader into Kaylee's journey of survival and discovery. Although the interspecies romance is hackneyed, Boyes does differentiate her aliens from both typical Star Trek–style humanoids and the bug-eyed monsters of the pulps. Apocalyptic fiction fans will enjoy this intriguing take on the genre. —Publishers Weekly, May 2019
The novel demonstrates an impressively assured voice, an ingenious, casebook-like structure in which the journal of the title is supplemented by several ''appendices'' written years later, and an equally creative use of illustrative material, drawn mostly from 19th-century books and the illustrations of Walter Crane....[T]he effect is unarguably moving, as we watch Kaylee transformed from a desperate and lonely figure into a kind of librarian legend, whose story only becomes richer as we piece it together from these later documents. —Locus, Gary K. Wolfe, July, 2019
A very promising debut, with both realistic and fantastic elements deployed to build a convincing future world and characters whose fate it's easy to care about. I will definitely be on the lookout for future work by Boyes. (Read the whole review) —Asimov's, Peter Heck, March/April, 2020
ISBN: 978-1-61976-159-9 (13 digit)
Publication Date: Jul 2019
paperback 312 pages