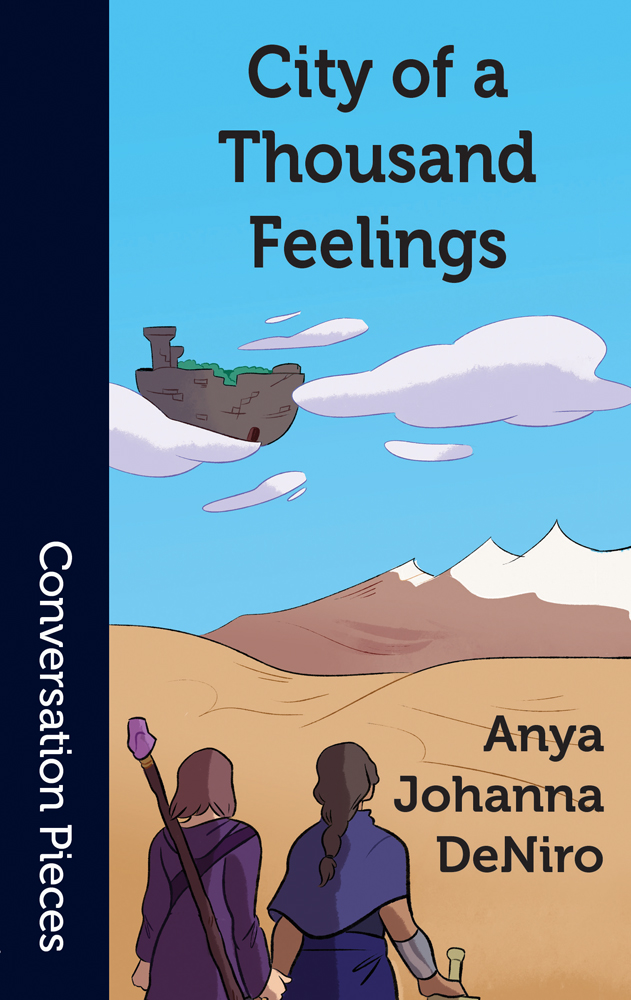 | | | |
| --- | --- | --- |
| $12 $10.00 (paperback) | | |
| $5.95 (e-book) | EPUB | MOBI (Kindle) |
The City of a Thousand Feelings doesn't let certain people inside its walls. It's a place where emotions can become visible, but it flees the approach of a makeshift army who want to enter. Two of the trans women in this army forge a deep, complicated, and at times contentious friendship spanning thirty years. They must come to terms with not only the City's literal and figurative gatekeeping, but also other, even more sinister forces that use necromancy against them. As the narrator and her friend's lives are sundered apart, they must come to terms with what it means to not have a home, and what it means to be queer and aching for such a home. A sword and sorcery tale with emotional resonance, City of a Thousand Feelings brims with both the visceral and the allegorical, allowing the two trans women at the center of the story to claim their own space.
Advance Praise
"Anya DeNiro's City of a Thousand Feelings is a huge fantasy epic with a deeply intimate relationship story at its heart. I love these heroic trans characters and their struggle to find, or build, a better world. This story left me with a renewed faith in our collective ability to make it through the wilderness and the assaults of undead angels, and to create better families as we do so.
—Charlie Jane Anders, author of All the Birds in the Sky
Reviews
Surreal and lyrical, if opaque, this profound fantasy from DeNiro (Tyrannia) explores the struggle for acceptance. An unnamed trans woman narrator meets the fellow trans woman to whom the book is addressed, whose name changes over the course of the novel from Melody to Mystery to Mercy, when they both join a ragtag army of exiled women intent on storming the city that excluded them. The army falls and 15 years of loneliness pass before the two women reunite. Together they decide to sneak back into the city to steal the city's blueprints and use them to build a new, inclusive home of their own. While the setting is successfully atmospheric, readers learn little about the characters. DeNiro's imagistic style leads to moments of beauty in lines such as "My heart is a flock of swallows blown out of a barn by a gale," but can also make it difficult to parse whether fantastical elements are meant to be read metaphorically. While some readers will struggle for a foothold in this strange, cerebral story, others will be gratified by the poetic writing and powerful themes of belonging. —Publishers Weekly, November 2019
DeNiro packs an entire epic fantasy into this very short book from Aqueduct Press, and it is a testament to what a skilled writer can do with a hybrid form. —Buzzfeed, Wendy J. Fox, January 2020
ISBN: 978-1-61976-177-3 (13 digit)
Publication Date: 2020
paperback 100 pages