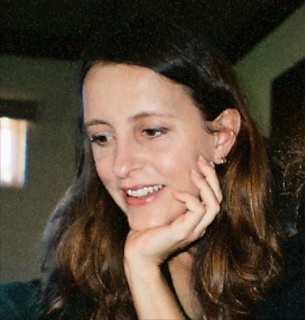 Helen Merrick
I was born in Perth, Western Australia, the second-most isolated city in the world (we used to be first, but apparently Honolulu beats us). I was always a reader, in a family of readers, where books were allowed at the table at breakfast and lunch, but not dinner. From an early age I pursued fantastic literature, settling down in teenage-hood to an almost exclusive passion for SF (although friends have persuaded me in recent years to read fantasy every now and again). I was a music scholarship student at high school and played the oboe, which along with my tendencies to do my homework, enjoy maths exams and compete with boys academically marked me out as what we then called a 'square'. (Perhaps with sufficient exposure to computers at that time I might have become a fully-fledged geek). I wanted to be an astronaut when I grew up.
I studied classical music at university before dropping out to sing in a '80s electronic dance band. After 3 years living in the UK trying to get a record deal, I returned to Perth and ended up back at University for a second try, and somehow ended up studying history. There I discovered women's history, feminist theory and a passion for research. I decided I wanted to be in publishing when I grew up. About this time I had stopped reading SF, as the standard old white bloke's fare I had been consuming clashed terribly with my newly raised feminist consciousness. Luckily I was saved by reading Donna Haraway's 'Manifesto for Cyborgs', which revealed to me the perfect solution to my dilemma: feminist SF! I never looked back. I completed a PhD on feminist SF and somehow became an academic (something I never thought I'd be when I grew up). Although my teaching career has been in other areas, most of my research and writing continues to focus on feminist SF. Publications include the co-edited collection Women of Other Worlds: Excursions through science fiction and feminism (1999) and chapters in The Cambridge Companion to Science Fiction (2003), Queer Universes: Sexualities in Science Fiction (2008), Routledge Companion to Science Fiction (2009), and On Joanna Russ (2009). I am currently working on articles about sf and sustainability, and a co-authored book on Donna Haraway with Margaret Grebowicz (forthcoming from Columbia U.P).
I share my precious 1/2 acre slice of urban bushland with one grown-up and three youngish humans, and a host of 'Earth Others' including possums, snakes, blue-tongue lizards, kookaburras and a multitude of native parrots, as well as chickens, guinea pigs and a cat. I garden for the apocalypse by planting lots of local native plants, vegetables and fruit trees. When I grow up I hope to have more time for baking bread, making preserves and fighting global warming.