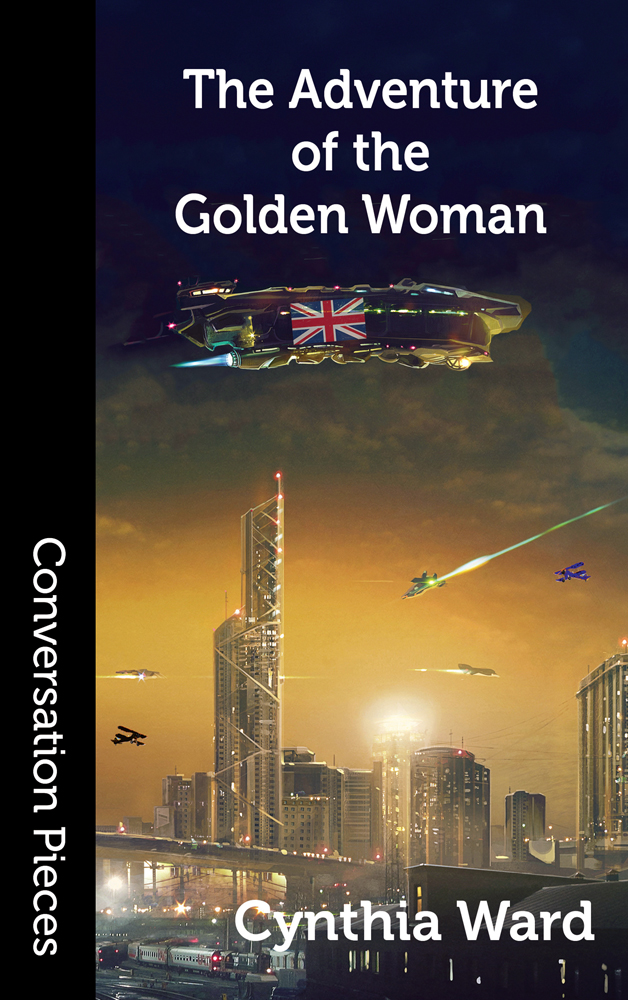 | | | |
| --- | --- | --- |
| $12 $10.00 (paperback) | | |
| $5.95 (e-book) | EPUB | MOBI (Kindle) |
The Adventure of the Golden Woman is the final volume in Cynthia Ward's the Bloody-Thirsty Agent series.

Lesbian vampire spies at the cabaret!  It's 1931, and conquest of the earth isn't enough for the British Empire.  But the demi-mondaine of occupied Berlin harbors a resistance movement, and the double agents Lucy Harker—Dracula's daughter—and her lover, the vampire Carmilla, steal England's spaceship plans.  Then the handoff to American agent Adolph Hitler is foiled by an impossibly advanced mechanical woman, and the lovers are imprisoned on a lunar spaceship scheduled for imminent launch. Now Lucy and Carmilla's only hope of saving the solar system is to overcome the ship's robot crew and outthink England's greatest espionage agent: Sherlock Holmes.
Praise for the Bloodthirsty Agent Series
"Cynthia Ward's Lucy Harker novellas give the modern reader an updated frolic through avant-garde genre fiction, a frolic frosted with a myriad of clever fandom-esque references sure to delight adventurous readers." —Michelle Ristuccia, Tangent Online (February 14, 2020)

"[G]rand and smashing recursive steampunk…a splendid romp indeed."
—Paul Di Filippo, Asimov's
Reviews
The wildly fun, fast-paced finale to Ward's Blood-Thirsty Agent series...[is] an exhilarating example of alternate history, weaving classic characters into a narrative that's as bombastically entertaining as it is thoughtful.... (Read the whole review) —Publishers Weekly (starred review), July 2021
ISBN: 978-1-61976-216-9 (13 digit)
Publication Date: Oct 2021
paperback 104 pages