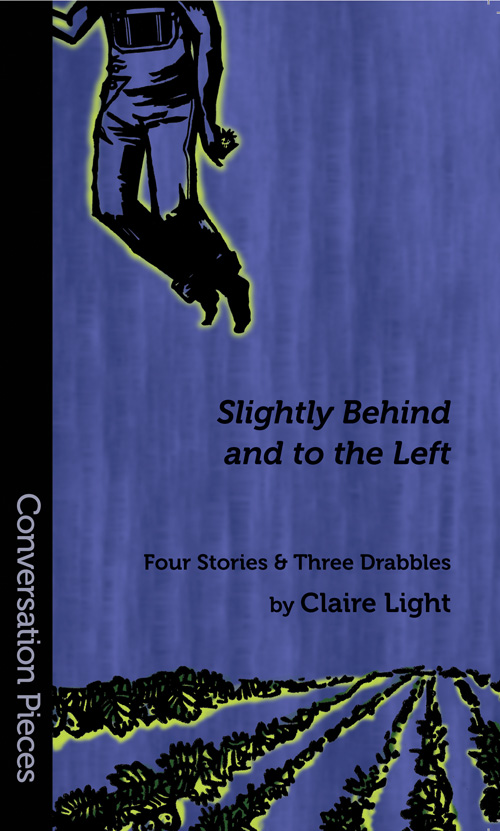 | | | |
| --- | --- | --- |
| $12 $10.00 (paperback) | | |
| $5.95 (e-book) | EPUB | MOBI (Kindle) |
The day all the men disappeared she went outside to see if it was true, if they were really all gone. The streets were quieter. You could hear more wind. Sometimes almost half a minute could go by without a car passing. The air smelled cleaner. More people were walking today, looking around. Some faces were in wonder. But in more of them, eyes were sweeping horizontal swaths, whites showing. And in the moments between the gusts of wind, when the wind died down and there were no cars passing, you could hear, for a moment, that the sound of walking was one of swishing and clopping, of cloth between thighs rubbed together, of wooden stacks, and of feet planted more forward than back. —from "Vacation"
Listen to Claire Light reading "The Pinball Effect" on KQED's "The Writers' Block."
Claire Light's fiction shifts our perspective just enough off-center to render the world we know a strange and unfamiliar place. In this volume, a woman with the most thankless job in space will calculate a new kind of "cold equation" to get her home to port. In a fantastical place where adulthood is the biggest threat to adolescent boys, predators arise from unlikely quarters. In a world with wonky physics and no gravity, a lone human learns the meaning of "reckless endangerment of alien life." And an alien abduction is only prelude to a long phantasmagoric journey. Interspersed with evocative flash fictions, this collection of stories luxuriates in the weird and wonky, half-lit realities and sidelong looks at painful truths.
Reviews
"I read Slightly Behind recently on a cold rainy day huddled next to my heater and the stories wormed their way under my skin with their beautiful language and twisted (and twisting) narratives....I highly recommend getting the collection now."
— Hyphen Magazine, January 24, 2010
"[Y]ou'll find yourself drawn into dark, surreal worlds that will leave you feeling shaken for days afterward. In a good way. A collection of ultrashort "drabbles" and four short stories—two of them linked—Slightly Behind And To The Left is the kind of book where planets are made of cats - but crimes against humanity are still as recognizable as the Moon. Light's prose moves effortlessly between hard science observations and absurdist flights of fantasy." ( read the whole review)
— Annalee Newitz io9, March 8, 2010
"Claire Light has pulled together a poetic and surreal collection for the second decade of the twenty-first century, which will likely generate much discussion and controversy. In the same style as stories by James Tiptree, Jr., a/k/a Raccoona Sheldon, some are, in my humble opinion, candidates for a Tiptree Award nomination."
— Carole Ann Moleti, Tangent, February 12, 2010
ISBN: 978-1-933500-35-5 (13 digit)
Publication Date: Dec 2009
paperback 90 pages