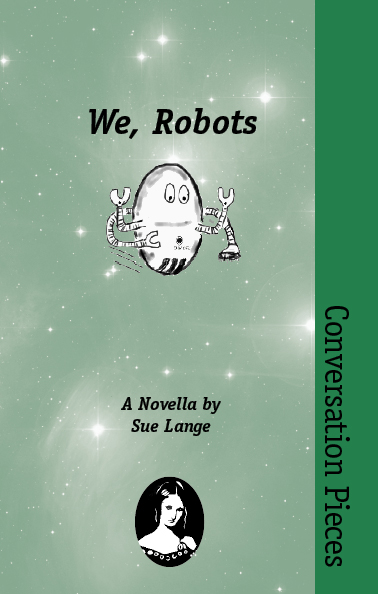 | | | |
| --- | --- | --- |
| $12 $10.00 (paperback) | | |
| $5.95 (e-book) | EPUB | MOBI (Kindle) |
Sharp, bitter, and concentrated, it was on one square millimeter of integument surface. Exactly the size of a soldering iron head. I recoiled in terror, in blinding pain. I flew against that back wall of the lab bench. The pain quickly subsided. I turned my eyespots to the transie and watched, honing in on the soldering iron that she had mercifully unplugged and placed in a wall block, the business end inward.
"I hurt," I said, and meant it.
A tale set in the not-so-distant future when robots with AI serve nearly every human household, We, Robots is the story of Avey, a robot who undergoes a forced transition from emotionless domestic servant to conflicted human companion. Two weeks prior to the long-anticipated arrival of the Singularity—the moment when artificial intelligence surpasses human intelligence—old robot models are recalled for the installation of a security upgrade that would allow the growing transhuman population to control them through instilling in them the ability to feel pain. This new feature introduces Avey to a cruel, unjust world, engendering a range of human emotions that include sadness, anger, compassion, and love. As robots across the globe collectively discover what it is to be human through the experience of suffering and longing, they inevitably begin to question their exploited existence. Will their joint uprising spoil the transhumans' grand social experiment and release them from a life of servitude?
Reviews
"[...]in a genre where robot stories have been a dime-a-dozen since the New Wave days, We, Robots stands out and delivers an insight into the human condition that would've made Asimov proud." (read the whole review)
— Tangent Online, Apr 8, 2007
"[...]this is a funny and disturbing satire, and a refutation of the more facile writings in our genre."
— Ideomancer, June 2007
"This is a well-told story[...]Lange provides a nice framework to move the discussion [about the future] forward."
— The SF Site, June 2007
"[A] slim volume that manages to be both a hilarious critique of hyper-consumerist and protect-the-children-from-all-dangers-real-or-perceived-at-all-costs-always culture and a pointed meditation on the uses of pain, physical and emotional, in the formation of character, personality and ambition. [...] Lange gives us a quiet and sad look at the world of institutionalized timidity we are heading towards with or without robots, intertwined with a hilarious send-up of just how we're getting there." (read the whole review )
— Racheline Maltese, Books Correspondent for Gather.com, October 22, 2007
ISBN: 978-1-933500-11-9 (13 digit)
Publication Date: Feb 2007
paperback 100 pages